We have a newer tech on staff. She is picking up on things pretty quickly, but as always there are some things you just can't learn by being told- you need to know from experience. Like today, for example.
I saw a little chihuahua puppy who had diarrhea. A simple matter, really. Make sure it's not parvo, test for parasites, send home some medication. Easy peasy as far as we are concerned. But this was a person new to owning puppies, and the idea of a puppy with diarrhea was overwhelming. Everything about having a puppy, really, was overwhelming. Picking up those cues is subtle sometimes, obvious other times, and you adjust your instructions based on this. I tend to talk quickly- it comes with being a Californian- and I think sometimes maybe I tell too much information, explain too much too fast. When I have someone staring at me with those shell shocked wide eyes, it's time to back up.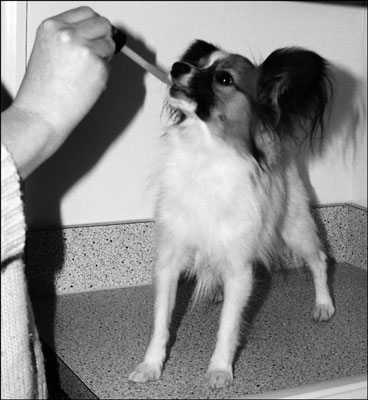 In this case, it was backing waaaay up. As my tech was going into the room to review the meds, I leaned in and said, "Make sure to emphasize this medication goes in the mouth. Otherwise they're going to try and do it as a suppository."
"Even though it says on the bottle By Mouth?" I nodded. She laughed at my 'joke' and went in the room.
She came out still laughing, and said, "How did you know?"
Experience, my friend.
Ask any vet- and those of you in the field here can back me up- everyone has a story about Advantage given orally, dewormer per rectum, ear ointment in the eye…So if you are the standard type of person who understands instructions easily, please don't be offended when we tell you the same thing three times, write it down, demonstrate it, and draw a picture. We have to cover all our bases here. I don't know why people always assume we are going to send them home with meds to give rectally- not going to happen EVER, unless you have an epileptic!- but it seems to be one of those zany things that people associate with pet medication. Why, I have no idea.