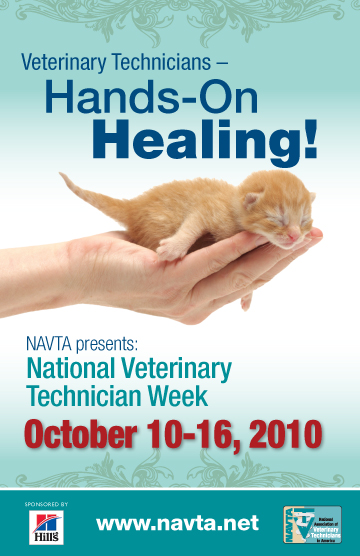 Did you know the third week of every October is National Veterinary Technician Week? I can't think of a more deserving, hardworking group of people to celebrate.
Vets get all the glory, all the cards and cookies, but techs are so often the ones who neglect to get any recognition for the incredible amount of work they put into keeping pets healthy. They man the phones, hold pets for all manner of procedures, do the vast majority of nursing care for hospitalized pets, and bear the brunt of the rodeo antics that sometimes happen behind the scenes.
They do a wonderful job communicating with clients, walking them through questions and concerns so the vet is able to help more pets more efficiently. My techs know me well enough now that they often have estimates ordered and prepared before I even finish my exam, allowing me to start my tests and get you both out the door all that much faster.
They clip nails, clean up poop, and endure the wrath of angry pets and clients. Vet techs, you all are the best. Thank you for all that you do. And in your honor, I have prepared an original poem for you. It's not a good poem, but it's from the heart. 🙂
You never hesitate to get all doused in blood and gore,
You bravely deal with all the nuts who waltz on through the door.
When anal glands erupt you often stop them with your face,
Despite all this you always act with merit, strength and grace.
You are the one most often bitten, scratched and met with ire,
The job description isn't one most sane people desire.
Your pay is but a scrap of average dental care hygienists,
And they don't even deal with the growling and the menace.
Because of you I'm able to examine pets with ease.
You get the blood and I pee I need to diagnose disease.
You gamely help and hold and make both pets and owners glad-
None more than me; without you all us vets would be so sad.
For all you do and sacrifice, my gratitude is to you-
The awesome vet techs out there, yes, we love you, we salute you!