It's June, and that marks National Adopt A Cat Month. Every month is a good month to adopt a cat, I say, but with June marking the height of the infamous 'kitten season' there really is no better time to go down to your local shelter or humane society and bring home a little fuzzball of your own. Be sure to check out the link above for the American Humane Association's Top Ten Checklist for bringing home a new cat.
Speaking of stuff to check out, here is a little video from the CATalyst council talking about the bennies of cat ownership:
A small quibble: People who own cats at some point in their lives are 40% less likely to die of a heart attack? Really? Have any of these people lived with a black cat who likes to sleep on their chest and wake them up with the force of their silent, baleful stare mere centimeters from their orbits?
We can talk stats until we're blue in the face, but anyone who's ever owned a cat will tell you that cat ownership cannot be summed up adequately by such things as blood pressure measurements or the advantages of having a self-cleaning pet (though those are nice perks.)
We like cats because they are such weird otherwordly creatures that defy explanation. Alien, really.
Both playful and aloof, adorable and intimidating, cats embody something we strive for and can never quite achieve: the ability to be oneself without giving one flying leap about what anyone else thinks of it.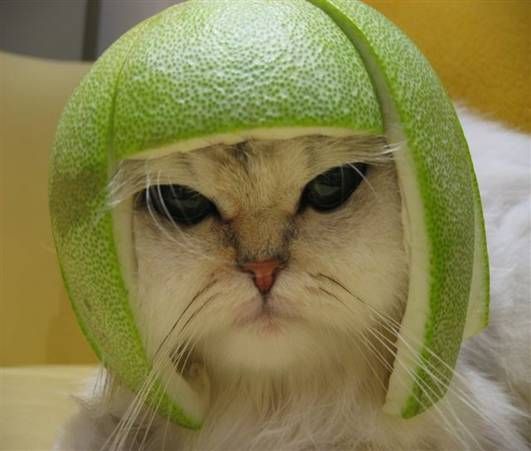 A total lack of self-consciousness, the inability to be embarrassed, and with that the ability to throw oneself into whatever it is one wants to throw oneself (both literally and figuratively in this case) into without regard for appearances or consequences.
We love dogs because they love us unconditionally. With cats, it's a bit more complicated. They challenge us to earn their love. And like the eager to please fools we are, we fall for it hook line and sinker with such contraptions like 10 foot tall cat trees, self-spinning lasers, and heatable cat bedding. All to get that indescribable feeling of joy you get when the cat who hates every human being on the planet strolls over to you and starts kneading biscuits on your belly while purring contentedly.
That is why we own cats. Or, you could say, they own us.
As anyone who's spent an afternoon goofing off on the web will attest to, cats own the internet. At least, they own a good chunk of YouTube. If only we knew what they were plotting:
Perhaps our grisly deaths. But honestly, I think they are happy with the benevolent rule they already enjoy. They get to sit and hang out, we bring them food, water, toys, and clean the litterbox? Why would they want to mess that up?
So if you're pondering bringing a cat into your life, what are you waiting for? Run on over to Petfinder and pick one out! And when you start your YouTube channel you just let me know.